I've tried doing this before, and failed. But this time around I feel inspired to see it through -- at least partly so I can appreciate the references in FFXIV, and at least partly so I can finally say that I have played each and every mainline(ish) Final Fantasy game through from start to finish... with the usual caveat that I'm not taking on XI because getting through the main story in
that
is a lifetime's work in itself.
I have actually played most of the Final Fantasies through at least once at some point or another in the past. The only ones I have never played through to completion are V, VI and Lightning Returns; all the others I've done at least once, and several I've done more than once. The ones I've played through the most times are VII and VIII: VII was the game which introduced me to RPGs, and my friends and I played it through at least ten times over the course of a summer or two, and I enjoyed the love story in VIII first time around, then got an enormous amount of glee from sidequests and overpowering all my characters the second time around. I'm particularly keen to revisit IX and X, which are always referred to with glassy-eyed fondness by those looking back on days of gaming past, and which I've only ever beaten once. I'm also keen to revisit X-2 and confirm my suspicion that despite it frequently being mocked, it's actually a very strong installment.
The specific versions of the games I'll be playing in this marathon -- and I'm not setting a time limit for this, so it may take months or even years -- are the following:
Final Fantasy PSP
Final Fantasy II PSP
Final Fantasy III PSP
Final Fantasy IV: Complete Collection
Final Fantasy V PSone
Final Fantasy VI PSone
Final Fantasy VII PSone
Final Fantasy VIII PSone
Final Fantasy IX PSone
Final Fantasy X Vita
Final Fantasy X-2 Vita
Final Fantasy XII PS2 (please do an HD remake of this, Square, and PLEASE put it on Vita)
Final Fantasy XIII PS3
Final Fantasy XIII-2 PS3
Lightning Returns: Final Fantasy XIII PS3 (or possibly PC if that version appears by the time I get there)
But before we get to that end of things, we have to indulge in the early years of the series...
Final Fantasy I
I've played a few versions of this over the years. I tried the NES original via emulation a while after I discovered VII, as I was keen to see the series' roots. I didn't get very far, though; it wasn't until the PS1 remake Final Fantasy Origins (which also bundled in Final Fantasy II, making its first ever appearance in English at this point) that I actually knuckled down and played the whole thing through to completion.
This time around, I'm playing the PSP version. I'm not sure how this differs to the numerous different versions there have been over the years, but to my knowledge it is closest in execution to the "Dawn of Souls" package available on Game Boy Advance, in that it has the additional content from that version. I also may be imagining things, but progression feels significantly quicker and easier in this than in the rather grind-heavy PS1 version, which on "Normal" mode was paced similarly to the NES original. Perhaps it's based on that version's "Easy" mode, which I'd previously been far too proud to jump into.
Final Fantasy I is recognisably Final Fantasy in some ways, but in others it's an interesting thing: rather than carving out its own completely distinctive identity, it's extremely clear that Final Fantasy is very much Dungeons & Dragons through a Japanese lens. We have a fantasy land filled with humans, elves and dwarves. We have enemies such as thinly-disguised mind flayers, sahagin and goblins. We have a quest that takes in every fantasy cliche in the book -- though particularly noteworthy is the fact that "rescue the princess", initially set up to be your main objective and the usual thing you found yourself doing in NES games around the time of its original release, actually turns out to be nothing more than a pre-intro teaser: after you rescue Princess Sarah from the evil Garland, the real quest begins, and it's a quest that would go on to be reused throughout the series, over and over again, up to and including Bravely Default, which is a Final Fantasy game in all but name: light the crystals.
What's perhaps most interesting about Final Fantasy I when viewed through a modern lens is its game structure or, more accurately, its lack thereof. Whereas we're used to more recent Final Fantasy games railroading us down a main narrative path for a significant proportion of the experience -- and say what you like about XIII, this was present in the series
long
before we ever met Lightning -- Final Fantasy I literally drops you in the game world after you hit "New Game" and expects you to get on with it. Of course, the most logical thing to do is walk into the town and castle you spawn next to, but there's nothing stopping you just wandering around and beating up some goblins and wolves before you do
anything
plot-related.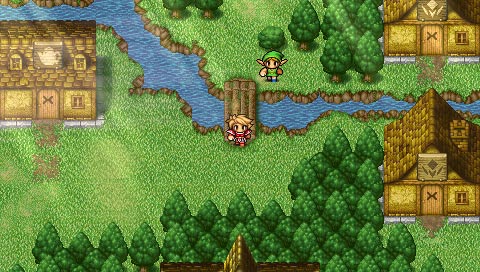 This continues throughout the game. "Clear" an area and you don't get given a metaphorical big flashing arrow telling you where to go next; you're expected to figure it out for yourself by looking at the map, determining where is accessible to you given your current movement abilities (as in subsequent installments, these are all tied to different types of vehicle) and then heading over there to see what's what. Once you're there, you'll need to survey the situation by fighting a battle or two and determining whether the enemies you're coming across are about the right level for your party, and if so, start looking for the nearest town and listening out for whiny NPCs complaining about something or other.
You're expected to be proactive, in other words. Take the part I've just got to, for example: I reached a ruined town that has been torn apart by the failure of the Earth Crystal's energies. One random, no-name NPC in the town happens to mention that there's a vampire in a cave down south and that he might possibly have something to do with it; everyone else simply bemoans their terrible lot in life every time you wander up to them. There's no "Ding!" new quest moment, no cutscene showing that yes, you should probably go
here
now, no pithy comments from your (mute) party about having to delve into yet another musty old cave, simply a piece of information that you can do with as you see fit.
The further you go in the game, the more "open" the world feels, until eventually you reach a point where there are actually a number of different things you can do at once. There's a logical order to do them in, according to the levels of the enemies you'll be encountering, but if you're feeling in a non-linear mood there's nothing stopping you poking around some other areas for a bit if you want to.
I'm so far finding it a lot more enjoyable and less of a chore than I remember. It's taken some adjustment to go back to random encounters -- especially when combined with Final Fantasy I's "guaranteed encounter" tiles, which are indistinguishable from random encounters but which, in some horrible (and thankfully circumnavigable) areas, see you getting into a fight literally every step -- but in a game where the primary focus is grinding and beefing up your characters rather than working through a particularly in-depth plot, the excess of fighting is to be expected.
The plot is throwaway, the mechanics are lightweight compared to later installments in the series and the world is a seething mass of fantasy cliches, but Final Fantasy I is a game that still holds up surprisingly well today -- thanks, perhaps, in part to the numerous refinements it's had in the
many
different versions over the years -- and it remains fascinating to see the genesis of one of the most long-running, often troubled series in gaming.