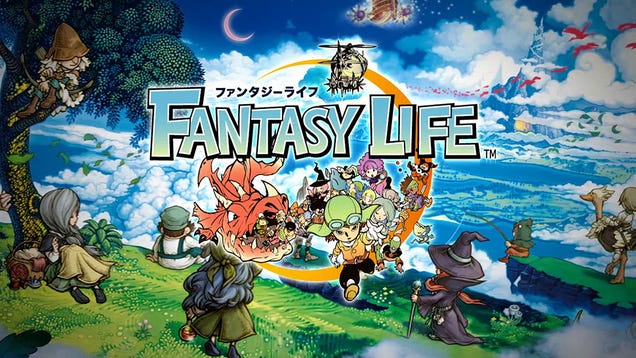 I finally received my copy of Level-5 and Brownie Brown's
Fantasy Life
(
FL
) for the 3DS last night. It's a game that I've been looking forward to (and praying for a Western release of) for some time. Although I'm not terribly keen on the
Prof Layton
games, Level 5's pure RPG titles have always been amongst my favorites in the genre. Their focus on fun, brightly colored visuals and item collection have always appealed to me in a big way.
FL
promises alot of the pleasant, low-stress, addictive, life-sim fun of Nintendo's
Animal Crossing
but features the addition of more concrete goals and combat - which is something that I can't say "no" to. I won't have time to really sink my teeth into the game for afew weeks - but I did boot up the game and at least make my character and get through the prologue. I was disappointed with the beard options, so I made a cute girl with purple hair instead. I'm starting out as a tailor. The game is super charming so far.
Although the Western release isn't the "complete" package re-release that Japan saw (we have to buy the bonus island as paid DLC), we
are
getting the multiplayer component that originally had to be bought separately as part of our standard package. I wanted to start a thread up to talk about the game, and create a space where squadies who bought it could hook up to play together.
My Info
3DS Friend Code: 1864-8425-6782
Nintendo Network ID: MrGilder
Character Name: Rarara
Anybody else on the Squadron pick up
Fantasy Life
? Let's get together and make some Dosh!