Shadowrun: Dragonfall is my current top choice for game of the year, and I think that a lot of the people here who haven't played it yet would get into it. Before that, though, we should talk about how this game came to be and provide a bit of context. I know a lot of folks feel intimidated getting into Shadowrun because it has a long history tracing back to its roots as a pen and paper RPG in the 80's. (It was also made into a FPS on the Xbox 360 and PC in 2007 that the less we talk about the better.)
Welcome to the shadows chummer.
The latest version of Shadowrun is a PC RPG that was Kickstarted back in 2012 under the name Shadowrun Returns. Shadowrun Returns was an attempt to actualize Shadowrun as a PC RPG. It was also considered an apology for the horrendous piece of shit that was Shadowrun the FPS. This thread also would not exist if the aforementioned Kickstarter hadn't hit a stretch goal to create an expansion in Berlin, because that expansion eventually became the standalone piece of brilliance I am here to discuss.
Shadowrun itself has been around since the 80's, which I mentioned I'll let Wikipedia take over at this point, because I'm lazy. So, so lazy.
Shadowrun takes place several decades in the future (2050 in the first edition, currently 2076). The end of the Mesoamerican Long Count ushered in the "Sixth World", with once-mythological beings (e.g. dragons) appearing and old forms of magic suddenly re-emerging. Large numbers of humans have "Goblinized" into orks and trolls, while many human children are born as elves, dwarves, and even more exotic creatures. In North America, indigenous American tribes discovered their traditional ceremonies allow them to command powerful spirits, and rituals associated with a new Ghost Dance movement let them take control of much of the western U.S. and Canada, where they formed a federation of Native American Nations. Seattle, Washington remains under U.S. control by treaty as a city-state enclave, and most game materials are set there and assume campaigns will use it as their setting.

In parallel with these magical developments, the setting's 21st century features technological and social developments associated with cyberpunk science fiction. Megacorporations control the lives of their employees and command their own armies; the ten largest have extraterritoriality, such as currently enjoyed by foreign heads of state. Technology advances make cyberware (mechanical replacement body parts) and bioware (augmented vat-grown body parts implanted in place of natural organs) common. The Computer Crash of 2029 led to the creation of the Matrix, a worldwide computer network that users interact with via direct neural interface. When conflicts arise, corporations, governments, organized crime syndicates, and even wealthy individuals subcontract their dirty work to specialists, who then perform "shadowruns" or missions undertaken by deniable assets without identities or those that wish to remain unknown. The most skilled of these specialists, called shadowrunners, have earned a reputation for getting the job done. They have developed a knack for staying alive, and prospering, in the world of Shadowrun.
I like the tabletop game a lot, but it wasn't the tabletop game that introduced me to the series. What really got me into the series is this thing right here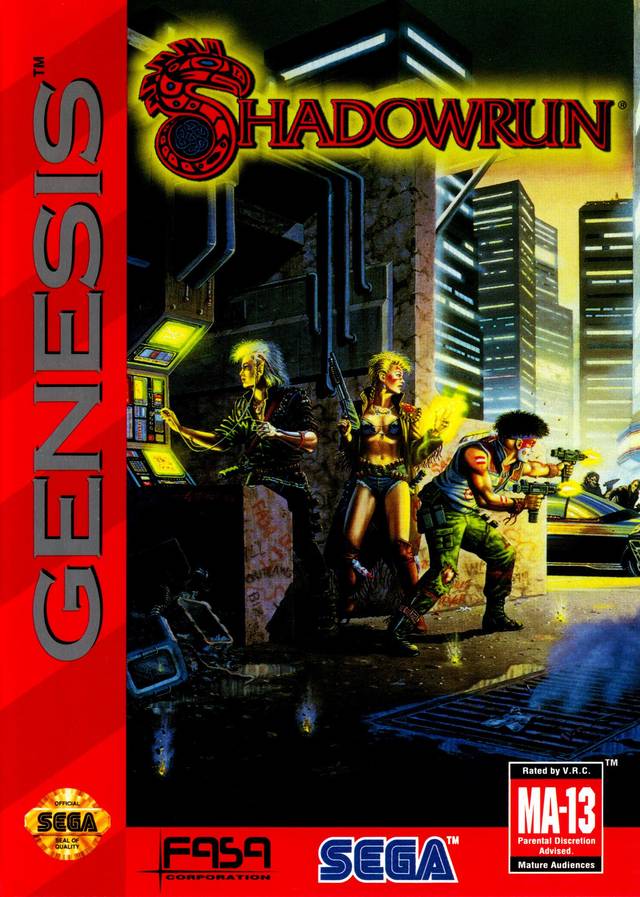 I'm sure some of you also played this thing right here:
Both of these games were great and got me into the world and the lore of Shadowrun.
Alright, Calin, why is Dragonfall worth playing?
Dragonfall takes the best parts of the Shadowrun universe and makes them the tactical, turn-based RPG that should have existed years ago.
Shadowrun is a classless RPG system, which means that, unlike D&D, you can build your character in any direction that you wish. Dragonfall continues this tradition, and it makes for a hell of a good time. Want to play a mage who can also pull out a minigun and blow suckers away? Do it. Want to play a charismatic troll who can punch someone through a building? Not a problem. How about a hotshot decker who will suppress security systems and help you access areas of building you didn't even know existed? That can be arranged.
Shadowrun is also a lot of fun. You take your party and, like Syndicate, access areas you're not supposed to be to engage in illegal and sometimes shady dealings. Stealing from megacorporations. Extracting clients and valuable data. Knowing that your existence will be denied if you're killed. You exist on the other side of the law, and the only folks watching your back are on your team.
Dragonfall takes place in Berlin, in the Kreuzbasar. Berlin is what is known as a Flux State. Here's some more on that:
Berlin is one of the biggest cities of Germany and Europe (population: 4.2 million citizens in 2062).
It was the capital of the Federal Republic of Germany from 1990 to 2023 when the government and parliament escaped escalating riots and relocated to Hannover.
In 2039, after a small-scale civil war that had started with the Night of Rage an organization called "Anarchist Movement Berlin" (AMB) gained control of the city and declared Berlin the "Greatest Experiment in Anarchist History".
This is the world that your character will be inhabiting.
I don't want to spoil too much, but the writing for this game is really sharp. It feels like a long lost gem from the good old days of PC RPGs.
Anyone else played this thing?