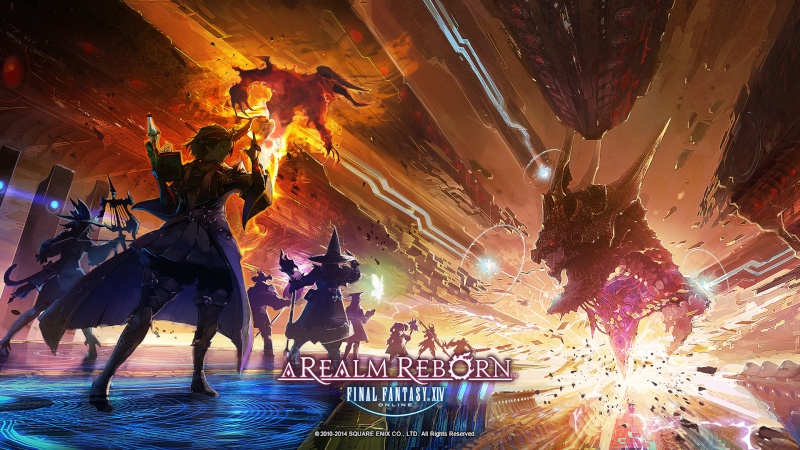 Squaddies,
I feel it would be remiss of me not to talk a little about the game that has been occupying my free time more than almost any other since last August. Owing to it being a massively multiplayer online RPG, and a subscription-based one at that, I don't doubt that it will be a hard sell to some of you, but in the best tradition of the Squad, I'd ask that you hear me out, consider giving it a try for yourself and make up your own mind. (Now's a good time to do it, too; the PS3 version is pretty cheap, and the PC version is on sale in the Steam summer sale.)
Why should I care?
Well, because I don't think there's been a more quintessentially "Final Fantasy" Final Fantasy game since Final Fantasy IX closed off the PS1-era trilogy back in 2000. Much as Final Fantasy IX celebrated previous generations of Final Fantasy games (specifically, the NES, SNES and PS1 eras) with numerous references, both implicit and explicit, Final Fantasy XIV does much the same for the PS2 and PS3 eras, with a few specific callbacks to earlier titles Final Fantasy II, III and VI in particular.
Looking at it in its most basic form, it's closest in execution to Final Fantasy XII, the love-it-or-hate-it installment that abandoned the series' traditional linear adventuring and turn-based combat in favour of non-linear open-world exploration and real-time combat. The main difference from XII is that you control an individual character rather than a party -- although once you reach a certain stage in your adventure you can train your chocobo to fight alongside you -- and thus there's a much stronger emphasis on mastering a single Job at a time rather than making sure three party members are all doing the best possible things they could be doing at any given moment.
This isn't to say the game lacks in depth as a result. Rather, mastering your Job is a matter of having a firm grasp of all the abilities available to you and how best to use them in combination. As you progress, you'll then be tasked with using these abilities effectively while manually dodging the most powerful attacks the dangerous beasties of Eorzea can throw at you -- this isn't a game where you stand in one spot and simply rotate around your abilities, oh no. Late-game encounters become intricate dances where you need to recognise the bosses' attack patterns and how to counter them, as well as keeping an eye on what your comrades are up to. Successfully pulling off your first win against Ifrit, Titan or Garuda -- not to mention the spectacular clashes that close the main part of the story -- is quite an experience.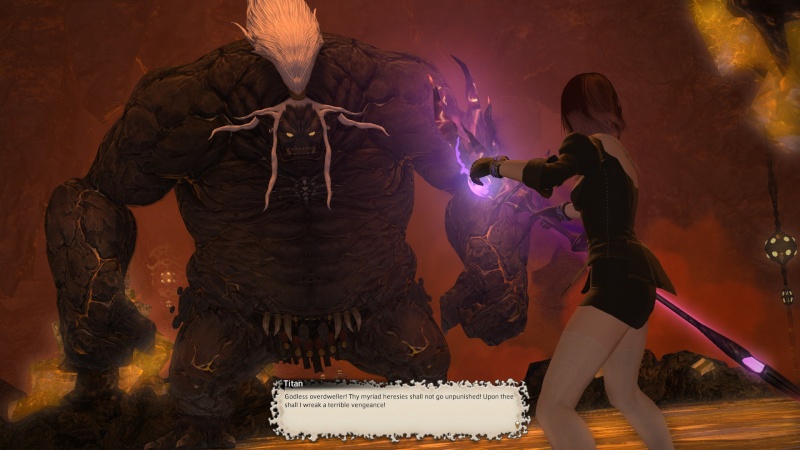 I don't like playing with other people.
I hear you! Other people are jerks. The nice thing about Final Fantasy XIV is that there's plenty to do for solo players. The majority of the main story casts you (yes, you!) as the "main character" in the unfolding adventures, and instanced battles against bosses help you feel like yes, this is your own heroic fantasy that you're helping to write.
As you progress, though, grouping up with other players will become more and more beneficial. There's still plenty to do by yourself, but once you reach endgame (level cap) in particular, you'll get the most benefit from taking on the game's cooperative challenges together. Many of the classes and Jobs are designed to work best as part of a team, and the game does a good job of gradually teaching you which abilities are particularly important when playing together. Plus there are plenty of opportunities to practice -- Guildhests are short, 5-10 minute missions for four players to take on together, while the numerous dungeons that punctuate the road to level 50 are longer challenges with three or more bosses each. But none of these assignments -- even the 24-player raid on Final Fantasy III's Crystal Tower -- are horrendously lengthy; they're all a manageable length, which helps you to learn the encounters therein, and be able to perform better and better each time you take them on.
An MMO can't possibly tell a good story, can it?
You'd be surprised! Final Fantasy XIV makes a much stronger effort to emphasise its narrative than many of its peers -- most notably World of Warcraft -- and does so through dialogue sequences, cutscenes and giving everything you do some form of narrative context. As a result, even once you get into the grind of endgame progression, the world of Eorzea feels like a real, living place filled with characters that you've come to know and love. But prior to that, there's a lengthy "main quest" to complete, culminating in a spectacular final battle that is worth experiencing even if you have no intention of continuing to play after that. And not only that, the story continues episodically every three months with major patches -- plus several new narrative threads have been introduced along the way, too, including the mystery of the ancient Allagan civilisation, what the villains of the piece are really up to, and the continuing misadventures of Hildibrand, Gentleman Agent of Enquiry.
Hmm. Anything else that might convince me?
I'm sure there'll be further discussion in this thread, but I'll leave off for now by saying that the soundtrack is fantastic and absolutely worth playing the game for. Here's a taster from one of the later dungeons.