I wanted to remind everybody to play Shadowgate. I think it launches today! I'm a kickstarter backer, so this game is coming to me pre-paid presumably when I get home tonight. Unless you are old like me, most of you will have no context for Shadowgate, so let me break it down for ya:
To really understand what the significance of Shadowgate is, your awareness about games had to be forming some time in the early NES era back when back when the world of gaming was split between text adventure 'mostly in the mind' experiences and something like Asteroids with no plot. Shadowgate falls in the same liminal space as the original King's Quest -- bridging the divide between graphics and story at the dawn of Gaming Time, although unlike KQ, it has now faded into gaming's forgotten lore, remembered primarily by those who were there at the time.
Shadowgate is notable for being one of the very first Macventures 'words-plus-pictures' video game experiences out there, and in a lot of ways pioneered the concept of 'poke at environment, get item, use item on environment, solve problem , advance' that we would later see replicated ad infinitum with flourishes and refinements in games like Maniac Mansion. While this may have not seem revelatory today, trust me back in 1987 it was a hell of a thing for the world of adventure gaming and it was very much A Big Deal.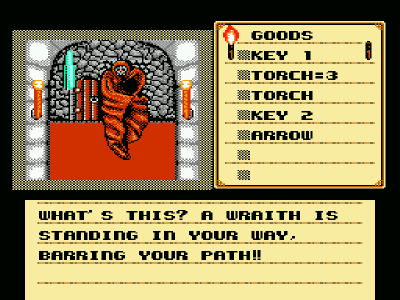 The gist is pretty simple. It's Fantasy Land, and prognosticators have determined that some asshole wizard named the Warlock Lord is just about to complete a dark ritual and summon The Behemoth... which is bad since this will destroy the world. You are some guy... don't know if you even have a name... charged by the king with kicking down the door of Castle Shadowgate where the Warlock Lord lives and sorting this problem out. You will move through the castle a-la text adventure, LOOKing, USEing and FIGHTing by pointing and clicking on stuff. You will die a lot from traps and monsters, but eventually you will learn the right paths and item combinations to succeed.
The game recieved multiple re-issues in its history, being updated famously on the NES to include both COLOR and MUSIC (neither a part of the original release) which has now become iconic to the game experience. As a person who once practiced his grade-school music lessions banging out 8-bit chiptunes from Shadowgate on the family piano I am deeply touched by the fact that the team doing the remake (who are, incredibly, the same now-old-men responsible for creating the original version Back In The Day) went all the way to Japan to track down the composer of the original 8-bit tunes from the NES version and get the rights to modernize/update them for the Steam release.
Anyway, Shadowgate may not mean anything to players who weren't gaming in the mid '80s, but for those who were it is a glorious thing to see such a triumphant return from obscurity for a beloved classic from my youth. I've played Shadowgate several times since childhood on various emulators, but I understand that this version has been re-imagined in a lot of ways, so I hope the experience holds up 30 years later. Viva la Kickstarter.
If you like the experience, I encourage you to check out Uninvited, which is the NES-only successor to Shadowgate, built in the same engine but framed as a modern horror experience where your car crashes at the side of the road with the creepy old house full of death the only thing visible within walking distance (Jason Voorheesism ensues). I've never actually finished Uninvited despite renting both it and Shadowgate many many times at the $3.99 weekend price from Hollywood Video (which no longer exists) in Petrolia, back in the day.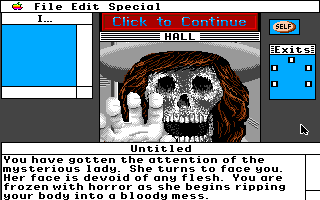 I may post updates to this thread on both the new Shadowgate experience and my time with Uninvited, if I am motivated to do both.